More religious occurences...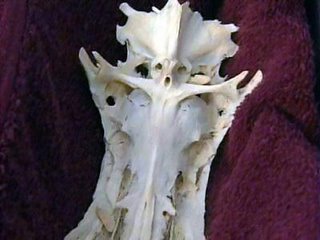 Ok... so, kudos for my mom on this post. I dunno how she does it, but she finds things on the internet that I didn't even hear about.
So first up is a fish bone that resembles Jesus. Yes, a fish bone. Just when you thought the pope on a pancake was enough. They couple that owns it said it has brought them good luck for years, and now they are selling it on eBay. Check out the article
here
.
Another thing spotted was on the doppler radar when Hurricane Wilma come over across Florida. Something appeared in the eye when it made landfall. I can't link the picture, so you are just going to have to check out the website
here
. You can also watch the video.
So what's new with me? Not much... if I can get some research done for a paper due soon, I'll be in good shape. I got my new watch on Friday, so I'm very excited about that. Also, if you are in St. Ann's, make sure to check out my new bulletin board on academic integrity.